Discover more from The Better Letter
A newsletter about markets, politics, faith, and life, published intermittently.
Over 5,000 subscribers
The Better Letter: I'd Know
We all tend to excessive certainty, especially during an election campaign.
Election Day is almost here. Finally. I expect former Vice President Joe Biden to win rather handily, but nobody knows for sure and a lot can still happen between now and Tuesday even though large numbers of voters have already cast their ballots.
Ultimately, I think Mr. Biden wins because people want a return to normal. They want a respite from the pandemic, they want normal government, and they want a normal president. They're tired of the incompetent, the crooked, and the crazy. We're all "weary and troubled."
Perhaps the bigger long-term issue is whether the Republican Party can and will ultimately resist its hostile takeover by the forces of populist authoritarianism and also return to normal. I'm skeptical but a big loss would surely help. Please, God, may it be so.
If you like The Better Letter, please subscribe, share it, and forward it widely. It's free, there are no ads, and I never sell or give away email addresses.
Thanks for visiting.
---
I'd Know
Staff at a fine New York City restaurant poured two wines into identical decanters. The one containing Mouton Rothschild 1989 – the most expensive on the menu at $2,000 per bottle – was accidentally served to a young couple that had ordered the cheapest wine available. Four Wall Street types (of course) got the couple's Pinot.
The banker host of the business dinner, who considered himself a wine connoisseur (because of course he did), praised the $18 wine's "purity." The young couple pretended to be wine snobs while sipping their "cheap" wine. None of the wine drinkers noticed the error until the restaurant staff realized the mistake and came clean.
Not a one.
When that story was reported in the press a few days ago, it reminded me of my own related experience. I was at a dinner of about a dozen finance folks (and one spouse) a few years ago. Everybody else at the dinner was famous or, at least, famous in a finance sort of way.
You would surely recognize the names of the other finance people who were there. The man on my immediate left (I'll call him Mr. Value) was with his much younger second wife. She was Russian. I don't think she was a spy.
Responsible for the management of around $150 billion globally, Mr. Value made a bit of a show of ordering and paying for (although I'm sure his firm ultimately paid) four bottles of wine. None was a Mouton Rothschild, but they were all very expensive.
I drank a nice Burgundy – at least I think it was nice. I asked Mr. Value why he had chosen that particular vintage. He explained that he loved Burgundy, he had visited the winery when he and his wife were in France on a vineyard tour the previous summer, he was friends with the vintner, 1996 was a very good year for Burgundy, and buying it for under $1,000 a bottle (he had paid $995) was a real bargain.
He was a value investor!
I sweetly asked Mr. Value if he had read the research literature (see, e.g., here, here, here, and here) suggesting that even wine experts often couldn't tell the difference between a good wine and a cheap one.
Mr. Value furrowed his brow. He looked down. He seemed to ponder deeply. Then, he lifted his head, faced me directly, and uttered just two words before turning his back to me and conversing in animated fashion with the other side of the table.
"I'd know."
That sort of bogus certainty is altogether common and particularly so during election campaigns. Your candidate's weaknesses are always disqualifying while my candidate's alleged ones are hoaxes perpetrated by the other side that can always be explained away. And what about her emails?
In 2011, only 30 percent of white evangelicals – my tribe – said that "an elected official who commits an immoral act in their personal life can still behave ethically and fulfill their duties in their public and professional life." Now, 72 percent say so. We all know what changed.
As the great populist William Jennings Bryan once said, "The people of Nebraska are for free silver, so I am for free silver. I will look up the arguments later."
A Marquette Law School poll found that 80 percent of both Trump and Biden voters expect their preferred candidate to win the upcoming election. Somebody — a lot of somebodies, really — is going to be very displeased.
I was going to write about the election in some depth this week but I doubt there are any undecided voters left and I doubt the likelihood of anyone being convinced of anything at this point anyway. No matter how persuasive I might be. But that does not lessen the importance of exercising political freedom.
If you're an American, I urge you to vote. Please. We need you.
---
Totally Worth It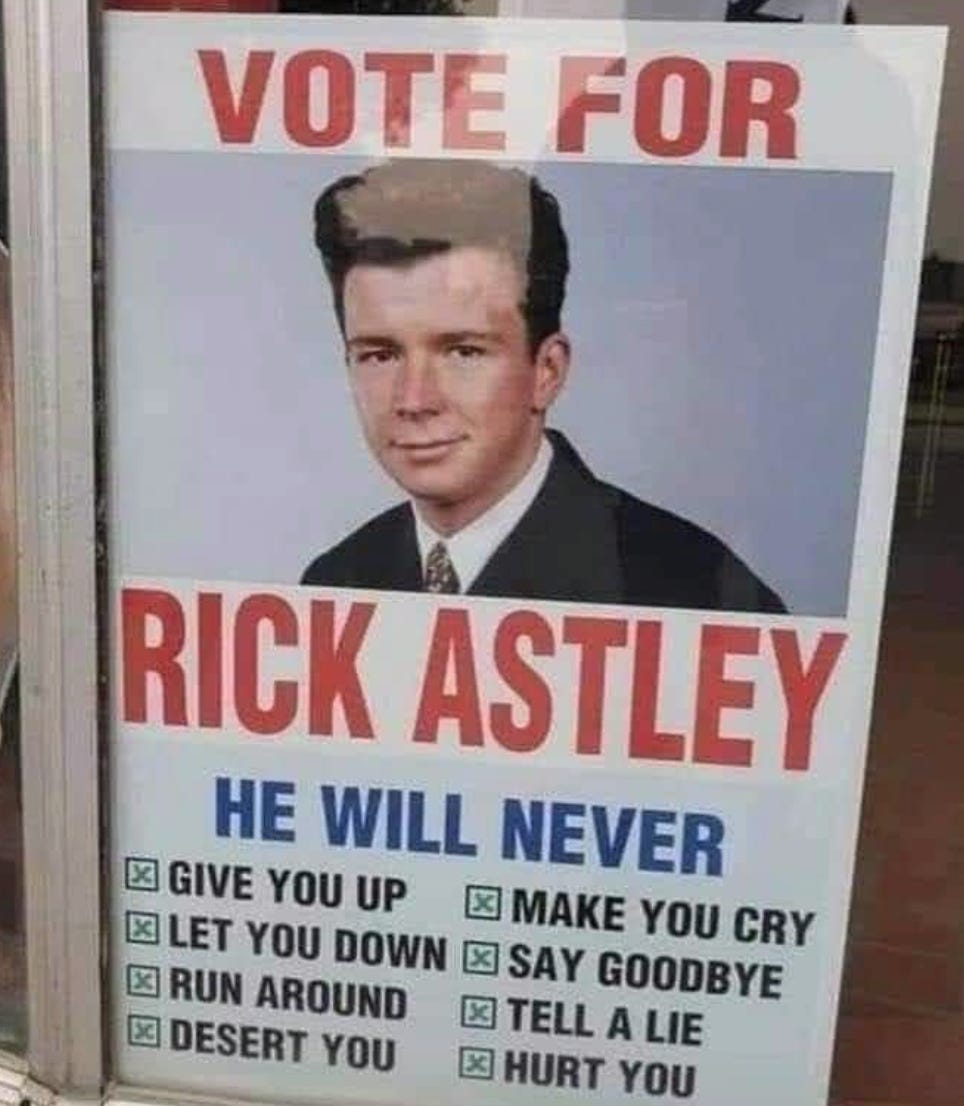 What words were added to Webster's Dictionary the year you were born? Find out here. For me, they included barf, country rock, and zilch. Cognitive dissonance. Banksy channels Monet. The modern office looks the way it does thanks to monks and Cosimo I de' Medici. The people who investigate military imposters. Lovely. Really? Not much of a mystery. Good call. The funniest thing I saw this week. The most inspiring. The sweetest, unless it was this. The coolest (sound up). The stupidest. The most powerful. The most amazing. The most important. Cannonball Run(s). For real.
Before this week, I'd never heard of this amazing Filipina singer or this incredible pop performance. Get out the good headphones. Turn it up. To 11. Wow.
---
Benediction
This week's benediction is provided by the terrific Scottish band, Celtic Worship.
Don't forget to vote.
---
Contact me via rpseawright [at] gmail [dot] com or on Twitter (@rpseawright). Don't forget to subscribe and share.
Thanks for reading.
Issue 36 (October 30, 2020)